Carrefour's had quite a ride over this past year, and I'm not talking about the pandemic. Over 2021, the retailer was in talks with its rival Auchan about a merger. These were said to be rather complex and fraught with competition issues, but in the end they fell through when the Moulin family, which holds a controlling interest in Carrefour, apparently opposed the deal on financial grounds.
However, Reuters reports that the Moulin family had not balked at the paltry EUR 16.8 bln offered. According to the news agency, the family had always viewed the deal with scepticism, believing it to have no real business rationale. This was not the only takeover deal served up on Carrefour's dinner table. Earlier, at the beginning of 2021, Carrefour had been in talks with Alimentation Couche-Tard from Canada, who were offering slightly less (EUR 16.2 bln), but this deal was eventually scuppered by the French government citing "food security" issues. One might have concluded that Carrefour had fallen on rather hard times – an impression that could only have been bolstered by reports in June that it was reconsidering its international operations and that its businesses in Taiwan, Italy and (last but not least) Poland might be for the chopping board. Carrefour denied these rumours calling them "premature". However, it is also rumoured that KPMG has been hired to manage the asset sales and coincidentally that very same consultancy refused to comment for this article. When we mentioned these rumours that have been circling like vultures above Carrefour's head to Grzegorz Mroczek, the vice-president of Cream Property Advisors, he responded by saying: "The market is becoming more and more competitive with the growth of formats and it's natural for different scenarios to be analysed. I believe the market still exists to develop and improve the hypermarket format and this it could attract more customers. If such players merge, I'm sure new synergies will be generated on the market." But the question remains, if the hypermarket is not dead, what is it now doing to stay relevant?
Keeping calm and carrying on
Auchan seems to believe that the old business model of selling huge quantities of goods at low margins is still essentially sound: "The basics of the hypermarket sales model have not changed. It still means a large sales area and a large number of customers. Thanks to this we can offer low prices. Auchan has continuously and consistently maintained its low pricing levels, which are the lowest on the market in Poland, as confirmed by independent rankings," explains Małgorzata Piekarska, the director at Auchan responsible for brands, customers, data, digitalisation and IT. But she categorically denies that the chain is stuck in its ways: "At the same time, broadly speaking, this sales model is undergoing a continual transformation: we are widening what we offer and how we sell it. It's already been ten years since we began selling online and we have been constantly investing in new solutions in this field. What's important to us is to integrate all our sales channels and to introduce new ones to give the customer not only a greater choice but also highly complementary and convenient ways to shop, such as in brick-and-mortar stores, online with home delivery, in store pick-up or pick-up at other locations," she claims.
Despite this business-as-usual approach, there can be no denying that the competition landscape for grocery retailers has changed. In June, Tesco announced its departure from Poland and has now sold off the vast majority of its chain – but this is a topic that is covered in much more detail elsewhere in the magazine. Strangely enough, Auchan does not believe that the departure of its rival has significantly reduced the competition. "Comparing our experience with that of other countries, what we see is that the Polish market is one of the most competitive in the world when it comes to retail. In this regard, Tesco's departure hasn't changed much. There are still a large number of strong players in Poland. Paradoxically, Tesco's withdrawal has increased the strength of discounters and their influence on the market," admits Małgorzata Piekarska of Auchan. However, Kaufland sees the situation somewhat differently: "Tesco's departure from Poland had a significant impact on the retail market. For other chains it was an opportunity to increase their market share. Kaufland has also taken advantage of this. We carefully analysed the available properties and, for the first time in our history, we decided to acquire twelve of the properties that were most attractive to Kaufland. The departure of a hypermarket format retailer from the market has also confirmed the long-lasting trend of discounters growing in popularity, which has certainly forced other hypermarket chains to analyse and adapt their current strategies," explains Ewelina Jarosińska, a member of the management board of Kaufland Polska. But perhaps the big difference in outlook between Kaufland and Auchan is mainly a question of size, since although Kaufland has some large stores, they don't quite match the scale of the stores of the large hypermarket chains. "In contrast to the way hypermarkets are located around large cities, the main format of the Kaufland chain allows us to be close to our customers and offer them a wide range of products in a compact, comfortable facility with an average area of 2,800 sqm. Therefore, we will continue to pursue our current strategy, focusing on one-stop shopping," she adds. She is not the only one to seem completely unphased by the sudden implosion of Tesco's market share, as, according to Grzegorz Mroczek of Cream, nothing much has changed at all: "Tesco was weak and uncompetitive for a number of years while other grocery market players were expanding their market share significantly. So, in my view, the competitive landscape is quite static. However, some good locations of former Tesco stores are being taken by other market players as well being redeveloped into different formats," he says.
More smaller stores
One clear sign that change has come to the grocery retail market is the number of smaller formats that have been adopted by the larger hypermarket chains. Carrefour has begun a franchise operation with its Carrefour Express brand and has even opened specialist Carrefour Bio stores that stock only organic groceries. Auchan, too, is now shifting its focus away from the gigantic retail format. "We can assume that smaller format retail concepts will indeed become more popular, and that's why we are investing in the convenience store model with our Easy Auchan concept, which we are developing jointly with BP for the Polish market, as well as in franchise supermarket stores. However, you have to bear in mind that Auchan is primarily an omnichannel player, a chain that offers the customer a wide range of ways to do their shopping, both online and in the real world. Today, Auchan Retail Polska comprises 120 points of sale, including hypermarkets, supermarkets residential stores (Moje Auchan) and convenience stores (Easy Auchan at BP stations), as well as online sales from the auchan.pl site," points out Małgorzata Piekarska.
However, when we look at a grocery retailer that specialises more in smaller retail formats, such as Spar, we see far more formats. "Spar has an important advantage over other retail chains, in that it trades in numerous formats, suited for the local community. We have the expertise to open successful stores in virtually any location. These can be Spar Express convenience stores, Spar Mini, Spar or Eurospar stores. Due to our flexible model, we are open to all opportunities and will not focus on any particular market. Spar Express is a convenience fuel court brand that meets the basic needs of customers. The relaxation zones in these shops are a convenient place to eat, drink and rest for people on the road, on trips and even while they're out for a walk. Spar Mini is a format designed for locations in housing estates and in rural areas. It is a neighbourhood store for quick, convenient and everyday shopping. The Spar format is devised as the neighbourhood supermarket and carries a wide range of fresh, dry, chilled and frozen products. Eurospar is the big brother and offers a far wider range across all departments, including non-foods and household items," explains Wayne Hodson, the chairman of the management board of Spar Poland. For Kaufland this plethora of smaller formats is not really an issue. "The convenience format is becoming more and more popular among consumers, but it's not in direct competition with the Kaufland chain. In this type of store, impulse shopping dominates. In our stores, customers can choose from over 15,000 goods and a wide range of services offered by our partners. As a result, they can buy what they need for the entire week in one place, and also, among other things, send or pick up packages, go to the pharmacy or the hairdresser and visit local bakeries and confectioneries," relates Ewelina Jarosińska. Despite the clear current trend towards smaller formats, Grzegorz Mroczek still holds out hope for the hypermarket format: "It is not possible to offer an extensive range over 1,000 sqm. However, we are seeing a trend for hypermarkets to downsize to areas of around 5,000 sqm, which – in my view – will be the future direction, replacing the much bigger spaces that were required 15 to 20 years ago due to different needs and less developed logistics."
Stirred but not shaken
He also sees relatively little damage to the grocery sector from the introduction of the Sunday trading ban, which has clearly shaken the rest of Polish retail. "As far as I understand the Sunday ban, it has actually had the least impact on the grocery business as customers have simply changed their shopping habits to shop more on Fridays or Saturdays," suggests Cream's vice-president, but he does add one caveat: "We need to be aware that the Sunday trading ban has changed the market by boosting the operations of convenience operators, like Żabka. Moreover, many retail chains have started working on Sunday, by citing their right to run post office contact points." Małgorzata Piekarska of Auchan also belittles the effects of the ban: "Having to close stores on Sunday hasn't radically changed the balance of power, but has instead spread out the shopping differently across the different formats during the week. What has been important from our point of view is the rapid growth of e-commerce, which is a long-term global trend. Consumers are looking for freedom and convenience when shopping through deliveries to the home or other pick-up points. E-commerce is a part of our business, but still most of our business take place in our stores," she insists. But despite her enthusiasm for the internet, online grocery trading has proven to be far from being an easy buck. Frisco.pl is a purely online grocer and has been operating in Poland since 2006, but it was only last year (2021) in July that the company announced for the very first time that it had made a profit. Grzegorz Mroczek of Cream doesn't believe groceries make a good fit for online retail. "From my point of view, grocery shopping will always be the most difficult to move online. The pandemic has helped to improve many online operations and customers have had the chance to test them out, so they are fully aware of all the upsides and downsides. However, brick-and-mortar stores will always remain the main line of operations," he states.
Value for money
Essentially, all the store chains we spoke to focus on the quality of their goods. Wayne Hodson puts it this way: "The grocery business in Poland is developing as the consumer demand for quality, freshness and range grows. Spar's model is not driven on being the cheapest in town, but rather on being competitive whilst offering a unique shopping experience with a far wider range of fresh, quality products." However, the questions of price and quality cannot be separated. "Consumers have always been price-sensitive, but now they are looking more for a range with a good quality and at a competitive price. It is for this reason that we have put a lot of emphasis onto our Spar private label range, where we offer top quality products at affordable prices. One of the challenges going into 2022 is the unpredictable food inflation, which will drive prices up. This will need to be managed very carefully in order to keep the price to the consumer as competitive as possible," he says. Kaufland has also adopted a similar approach. "For consumers, it is not just the price, but also the quality of the goods that's important. We attach great importance to it. In addition to branded products, we have developed an assortment of private labels, which are distinguished by their excellent value for money. Our range includes over 3,500 products – including in our economy line (K-Classic) and goods prepared from selected ingredients (K-Favorites)," reveals Ewelina Jarosińska, who then adds: "Our customers can also choose from a wide range of premium products. When we decide upon the Kaufland chain's range of goods, we consider the needs of all consumer groups and guarantee them a large selection of high-quality products at attractive prices." Despite the exit of Tesco from Poland, it appears the grocery market still remains highly competitive and perhaps the prices for food are the real proof of this. "For many years our grocery prices have been some of the lowest in Europe. I believe an adjustment is coming right now. Obviously, customers will vote with their feet in terms of which stores and stock they choose in a such significantly changing market," points out Grzegorz Mroczek of Cream.
Źródło: eurobuildcee.com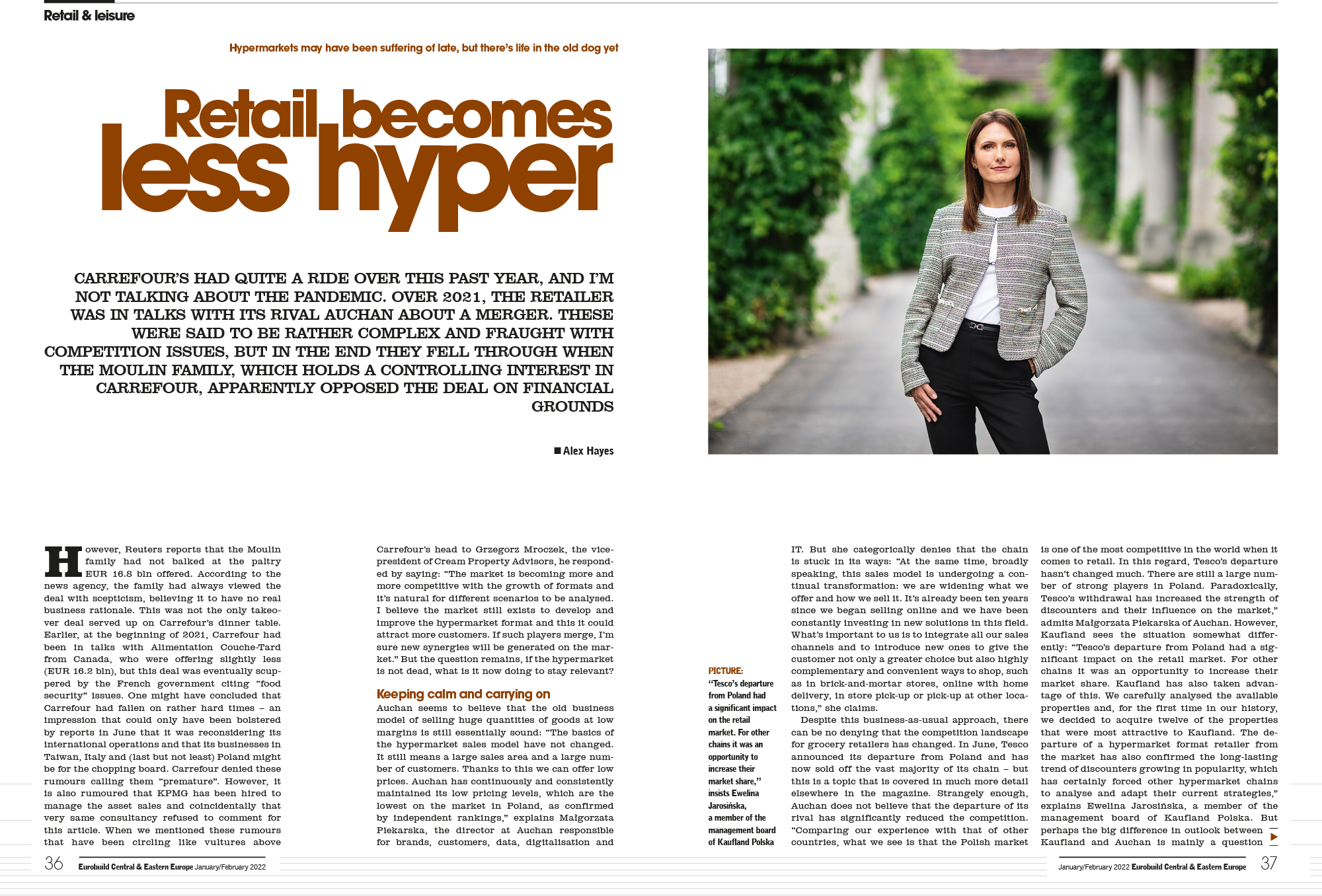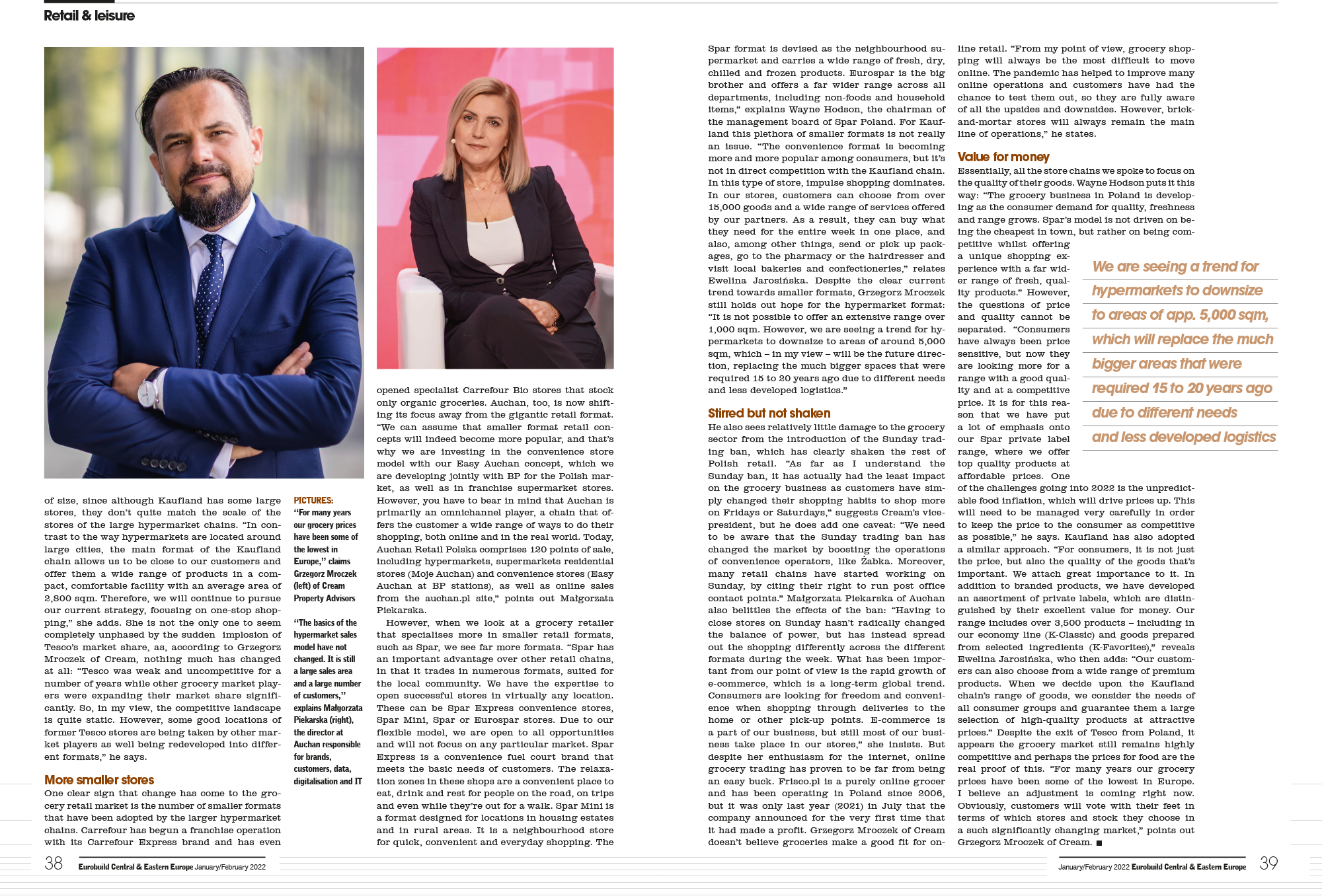 ---